Top Quality Fish B.V. & Nordzee International B.V. both conmpanies started their activity in year 2001, with a 20 year experienced management devoted to the frozen fish business in Netherlands, and next to fresh fish wholesaler Noordzee Urk. B.V.
Located in Urk (Netherlands) the company has a long experience in handling and filleting all kinds of flatfish varieties coming out from the fresh and clean North Atlantic seawaters. Factory is operating with very modern technology for filleting and freezing. CO2 freezing system ensures an excellent presentation to the product, by extremely fast shock freezing and being completely enviromental friendly system.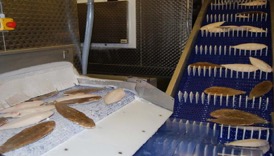 Producing activity has been concentrated in the most common NorthAtlantic water species: doversole, plaice, flounder, dab, turbot, codfish, razorclams, cockles among others. In different presentations and size gradings.
A very wide range of products all of them guaranteed to be "Natural Fish label" and completely free from additives.
Read more about Top Quality Fish Products